Yay for the weekend!! Here are my top 5 laughs from the week!
1. Jillian asked me the other day what Wyatt's private area was, so I told her. She kind of laughed and that was that. A few days later we were at my grandmother's and Jillian blurted out I have a va-jay jay and babies have a penis! Over and over again! We first explained to her that boys have a penis and second that it wasn't something to say all the time! It was a total Kindergarden Cop moment!
2. Last weekend I had to get on my nephew Noah, and he stopped what he was doing and made the cutest face ever!! It was like an "O", she told me no! Jo-Jo and I had to cover our faces and laugh! He was so serious!
For the record, I didn't tell him no in this picture! But this is the face he makes when I do tell him no!
3. Jillian was riding with her daddy in the big truck and she told him to slow down. He told me you can tell she's been riding with you. I tell Randy how to drive all the time!
4. I got bit pretty bad by a cat at work yesterday. The cat's name is Tiger. Randy, trying to make lite of the situation said, you're the only woman I know that had gotten bit by a Tiger and lived to tell about it! Ha Ha, (said in a very sarcastic tone!)
5. Wyatt is very laid back, but today Jillian took a toy from him and he screamed/growled at her! Watch out sister!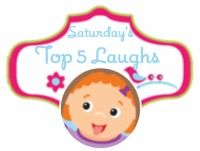 If you have funny things that happen to you and wanna share, come link up with us at
The Mommyhood Chronicles!